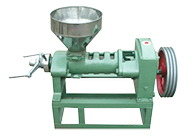 Sunflower Oil Press
The YZS-100A sunflower oil press is capable of both cold pressing and hot pressing. Its design and performance is quite suitable for those who do business in country markets or who run a small-scale oil mill. Control at each stage of production in the oil expeller press allows for clean and reliable performance. This model of oil expeller press requires little space and is easy to operate. Its cost effectiveness and profitability make it an ideal investment.
YZS-68 Oil Expeller Press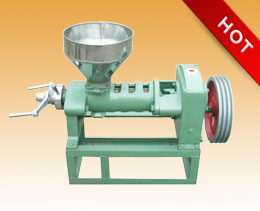 FAQs - Oil Press Machine

How to choose oil press
Now the oil press can be used for general processing of soybean, peanut,sesame, rapeseed, cottonseed, sunflower seeds, olives and other particles and also can be used for ricebran, corn germ powder, such as oil and safflower oil, and other few wild plants of oil-bearing materials.

How to use oil press
Before using the oil presses, first of all should be ready for all of assistant devices and containers, check and adjust the degree of tightness of belts. And then start up the motor so that the machine run empty of material around 15 min, checking the rotate speed of screw pressing worm. The general speed should be around 33 minutes.

How to store oil
Oils that are high with monounsaturated fat will keep up to a year, while refined olive oil, which has the highest of monounsaturated fat, can last a few years. Extra virgin and virgin olive oils will keep about a year after opened. The shelf life of most other oils after opened is usually six-eight months. Do not store oil in that pretty jar in the kitchen window or keep it on the shelf next to the stove.

Sunflower Oil Press
The YZS-100A combined sunflower oil press is new vegetable oil press which developed on the past single oil press machine and according the market demands. It has strengthen the function of frying and automatic controlled temperature, which has changed the traditional way for increasing dry cake's temperature, therefore it reduced the working time, and also reduced the waste of power and consumption of machine, otherwise it has lengthened the service life of the machine. If working process was interrupted, the squeeze chest could keep on a certain temperature automatically.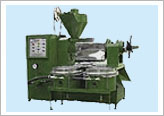 Apart from that, our new type of sunflower oil press also has increased the use function and improved the automatization, changes the single oil press machine into combined oil press with frying, squeeze, and filtration. The oil plants feed into the squeeze chest directly after it has been fried and the grease squeezed out will be filtered in the vacuum filter. The vacuum filter has the character of light weight, convenient operation, quick filtration, etc. The YZS-100A sunflower oil press has many advantages as the compact structure, small ground requiring, save a lot of working time, and it is suitable for small and medium scale oil plants processing factory.
Specifications of the YZS-100A Peanut Oil Press
| | | | | |
| --- | --- | --- | --- | --- |
| Model | Capacity | Power (Kw) | Net Weight (kg) | Size |
| YZS-100A | 5 tons per 24hours | 7.5-1 | 780 | 2270*1100*1950mm & 1170*660*760mm |
Structure and Features of the YZS-100A Peanut Oil Press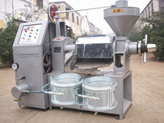 This YZS-100A integrated sunflower oil press mostly composed by four parts: feeder, press chamber, electrial control and vacuum filter drum. The heating system is inside press cage. The filtering drum is vacuum with sight glass. The oil sight glass can help user to control the speed of oil clearing process.
The sunflower oil press features high oil output rate and good oil quality. The auto-heating system can improve oil output greatly. This kind of oill seed expeller is speically for farm use or small oil milling workshop.