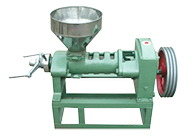 Manufacturer of Vegetable Oil Press
To processing vegetable oils, we can supply various equipments for different steps in the production of cooking oil or biofuel. We can cater for your needs of ranging from complete turn-key oil milling plants to individual equipments (such as pre-treatment of seeds, pressing, physical or chemical extraction, oil refining) and prodcuts(such as oil press, filter press, cooker, refining tank and cleaner, sheller for raw material etc.).
YZS-68 Oil Expeller Press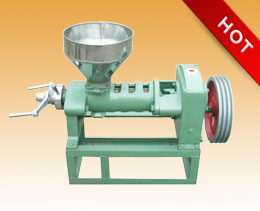 FAQs - Oil Press

How to choose oil press
Now the oil press can be used for general processing of soybean, peanut,sesame, rapeseed, cottonseed, sunflower seeds, olives and other particles and also can be used for ricebran, corn germ powder, such as oil and safflower oil, and other few wild plants of oil-bearing materials.

How to use oil press
Before using the oil presses, first of all should be ready for all of assistant devices and containers, check and adjust the degree of tightness of belts. And then start up the motor so that the machine run empty of material around 15 min, checking the rotate speed of screw pressing worm. The general speed should be around 33 minutes.

How to store oil
Oils that are high with monounsaturated fat will keep up to a year, while refined olive oil, which has the highest of monounsaturated fat, can last a few years. Extra virgin and virgin olive oils will keep about a year after opened. The shelf life of most other oils after opened is usually six-eight months. Do not store oil in that pretty jar in the kitchen window or keep it on the shelf next to the stove.

Manufacturer of Vegetable Oil Press
6YL-68 oil press
This video is about how to disassemble and assemble small oil press of model YZS-68 when you want to maintain or change the wear parts of oil press. Model 6YL-68 Oil Press is a kind of small oil press with simplest structure. The main parts of oil press...
We are trusted manufacturer and supplier of different kinds of vegetable oil presses. We guarantee the great service and the most conpetitive prices. Timely Delivery! We are always at your service!
Application Security Matters of Oil Presses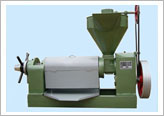 For your own safety and the normal use of the machine, It is also necessary to be familiar with and strictly observe the following rules except the mentioned matters needing attention.
1.Press operators should possess mechanical, electrical, security, basic knowledge and skills; people who are under 18 or over 60 years of age, illness or drink are not allowed to operate. Before The use of press, one should read the prospectus carefully in order to ensure personal safety and the normal use of the machine.
2.During the operating, hands and any other part of the human body are strictly prohibited any contact against press rotating pieces. Meanwhile, long skirts, sleeves clothes that are too big or too long to wear or ornaments are forbidden to wear to operate the machines.