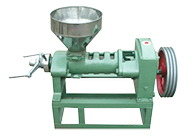 Oil Seed Press
The YZS-100 oil seed press are spiral type pressing machinery for oil extraction. It has the advantages of low investment, effortless operation, wide adaptability in all kinds of oil seed material and high oil production rate, which welcomed by customers who deal with vegetable oil extraction at small or middle capacity.
YZS-68 Oil Expeller Press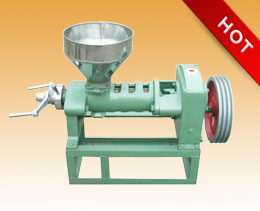 FAQs - Oil Press Machine

How to choose oil press
Now the oil press can be used for general processing of soybean, peanut,sesame, rapeseed, cottonseed, sunflower seeds, olives and other particles and also can be used for ricebran, corn germ powder, such as oil and safflower oil, and other few wild plants of oil-bearing materials.

How to use oil press
Before using the oil presses, first of all should be ready for all of assistant devices and containers, check and adjust the degree of tightness of belts. And then start up the motor so that the machine run empty of material around 15 min, checking the rotate speed of screw pressing worm. The general speed should be around 33 minutes.

How to store oil
Oils that are high with monounsaturated fat will keep up to a year, while refined olive oil, which has the highest of monounsaturated fat, can last a few years. Extra virgin and virgin olive oils will keep about a year after opened. The shelf life of most other oils after opened is usually six-eight months. Do not store oil in that pretty jar in the kitchen window or keep it on the shelf next to the stove.

Oil Seed Press
This oil seed press features a smooth shell, it is easy to operate and repair, has a wide range of applications, performs reliably, and is capable of processing rapeseed, cottonseed, sesame, peanuts, soybeans, sunflowers, jatropha, linseed and other oil plants. The Model YZS-100 oil press is the best choice for small and medium-sized oil extrusion workshops or individual households. Spare parts are always supplied. Customers are typically very satisfied with this oil seed press.
The YZS series oil seed press is in accordance with the standard JB/T9793.1-1999 in China. Their quality are also authorized by CE certificate and ISO9000. The durable performance and reasonable design of our press expeller also accepted by all of our customers all the world. We have much long term cooperaiton with our clients for many years.
Specifications of the YZS-100 Oil Seed Press
* Capacity: 4.5-5T/24h (Rape seed)
* Output Efficiency: 68-92%
* Power: 7.5kw-1440rpm
* Size: 1860 x 550 x 695mm
* Weight: 480kg
Raw Material


Capacity (kg/hr)

Output Rate (%)

Cake Residual (%)

Rape Seeds

Hot Pressing

150-170

30-38

7.5-8

Cold Pressing

75-95

28-35

Peanut

Hot Pressing

150-185

35-45

7

Cold Pressing

45-65

32-40

Bean

Hot Pressing

145-160

10-14

6.5-7

Cold Pressing

70-105

8-14

Seame

Hot Pressing

150-170

44-47

6.5-7.5

Cotton Seeds

Cold Pressing

85-105

10-14
Oil Seed Press With Diesel Engie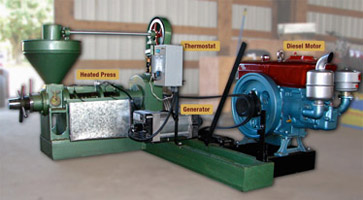 The YZS-100 oil seed press can also be matched with diesel engine. The following picture shows the combined oil seed press, thermostat, generator and diesel engine.
This combined oil seed press is used by many customers. The diesel offer the power for the generator, then the generator can offer the electricity for the control cabinet and heating pipe in the oil seed press.