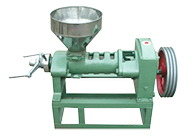 Oil Screw Press
The YZS-80 oil screw press is our main products with middle capacity at 2-3ton per 24hrs, with power 3 phase 5.5kw & 8HP-12HP. It can equip with a diesel generator for home use. This kind of oil press is a better choice for oil extraction of soybean seeds, peanuts, rape seeds, cotton seeds, sesame seeds, sunflower seeds, jatropha seeds, palm, coconutand grass seeds etc.
YZS-68 Oil Expeller Press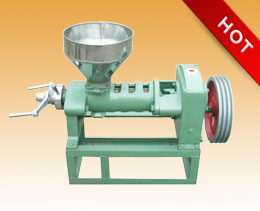 FAQs - Oil Press Machine

How to choose oil press
Now the oil press can be used for general processing of soybean, peanut,sesame, rapeseed, cottonseed, sunflower seeds, olives and other particles and also can be used for ricebran, corn germ powder, such as oil and safflower oil, and other few wild plants of oil-bearing materials.

How to use oil press
Before using the oil presses, first of all should be ready for all of assistant devices and containers, check and adjust the degree of tightness of belts. And then start up the motor so that the machine run empty of material around 15 min, checking the rotate speed of screw pressing worm. The general speed should be around 33 minutes.

How to store oil
Oils that are high with monounsaturated fat will keep up to a year, while refined olive oil, which has the highest of monounsaturated fat, can last a few years. Extra virgin and virgin olive oils will keep about a year after opened. The shelf life of most other oils after opened is usually six-eight months. Do not store oil in that pretty jar in the kitchen window or keep it on the shelf next to the stove.

Oil Screw Press
The YZS-80 oil screw press is an advanced oil pressing machinery, characterized by its simple design, easy to use, wide suitability and continuous operation, and high productivity and high oil output ratio. Moreover, this oil press can be used for various raw materials, such as ground nuts, soybeans, rape seed, cotton seed, sesame seed, sunflower seed, coconuts/copra, tea seed, jatropha etc. At the same time it can be designed into D series and A series
This type of oil screw press is quite suitable for medium-small sized oil extruding workshops or professional farmers. Certainly, they can be used for prepressing in submerging oil workshops, too.
Spesifications of YZS-80 Oil Screw Press
* Capacity: 2-3T per 24Hours
* Power: 3-Phase 5.5kW &8HP-12HP
* Size: 1320 x 540 x 1020mm
* Weight: 330kg
Raw Material

Raw Material In-feed per 24 hours (kg)
Oil Output Per 100kg of Raw Material (kg)
Dry Cake Residue(%)

Rape Seeds

Hot Pressing

1900-2400

30-35

7.5-8

Ground Nuts

Hot Pressing

1900-2400

35-45

7

Bean

Hot Pressing

1800-2300

10-14

6.5-7

Sesame

Hot Pressing

1900-2400

44-47

6.5-7.5

Cotton Seeds

Cold Pressing

900-1200

10-14

5.5-6.5
Oil Screw Press With Electric Heater and Control Cabinet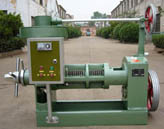 This kind of oil screw press includes the electrical heater and control cabinet. The control cabinet can be used for both motor and heater.
The function of the heater is to heat the machine before pressing the oil seeds. Besides, the heater is also helpful for increasing oil output. Especially for lower oil-bearing oilseeds, such as cotton seeds,sunflower seed,soybean. Usually, when press the oilseeds, the oil screw press needs be grinded first using raw material, in order to make the pressing temperature of chamber reach 80-120 degree. Then there is oil come out. If there is no heater, it takes about 30 minutes to make the temperature reach the appointed temperature. But this kind of oil extraction press only needs five minutes.
Oil Screw Press With Diesel Engine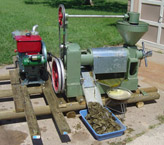 The YZS-80 oil screw press with diesel engine is also very popular in a lot of areas. We are glad to match it if you need.
The picture is also taken by our client. The product oil can be edible or also for making biodiesel as fuel. The byproduct oil cake/meal can be made for pellet as animal feedstuff, such as pig, chicken, cattle etc.
Anytime you are interested in any of our oil press machine, please fell free to contact us in the following form. We are always ready to serve you!