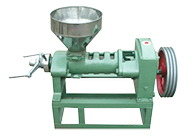 Oil Pressing Machinery
Model YZS-95 oil pressing machinery with professional screwing processing, is capable of extruding rapeseed, soybean, peanut, cottonseed, sunflower, coconut,tung tree seed, etc., the seeds of the oil presses. This oil seed press characterizes by less investment, complete supporting facilities, easy to repair, wide suitability, high oil output rate, etc.
YZS-68 Oil Expeller Press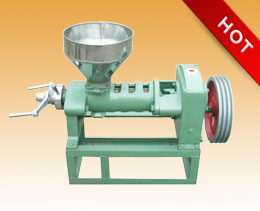 FAQs - Oil Press Machine

How to choose oil press
Now the oil press can be used for general processing of soybean, peanut,sesame, rapeseed, cottonseed, sunflower seeds, olives and other particles and also can be used for ricebran, corn germ powder, such as oil and safflower oil, and other few wild plants of oil-bearing materials.

How to use oil press
Before using the oil presses, first of all should be ready for all of assistant devices and containers, check and adjust the degree of tightness of belts. And then start up the motor so that the machine run empty of material around 15 min, checking the rotate speed of screw pressing worm. The general speed should be around 33 minutes.

How to store oil
Oils that are high with monounsaturated fat will keep up to a year, while refined olive oil, which has the highest of monounsaturated fat, can last a few years. Extra virgin and virgin olive oils will keep about a year after opened. The shelf life of most other oils after opened is usually six-eight months. Do not store oil in that pretty jar in the kitchen window or keep it on the shelf next to the stove.

Oil Pressing Machinery
YZS-95 oil pressing machinery is characterized by its simple design, easy to use, wide suitability and continuous operation, and high productivity and high oil output ratio. Moreover, this press press can be pressed for various raw materials, such as ground nuts, soybeans, rape seeds, cotton seeds, sesame seeds, sunflower seeds, coconuts/copra, tea seeds, jatropha etc.
Specifications of the Oil Pressing Machinery
* Capacity: 2-3T per 24Hours
* Power: 3-Phase 7.5 kW 12HP-1440rpm
* Size: 1910 x 610 x 765mm
* Weight: 620kg
Raw Material

Capacity (kg/hr)

Output Rate(%)

Cake Residual (%)

Rape seeds

Hot pressing

150-170

30-38

7.5-8

Cold pressing

75-95

28-35

Peanut

Hot pressing

150-185

35-45

7

Cold pressing

65-95

32-40

Bean

Hot pressing

135-160

10-16

6.5-7

Cold pressing

70-105

8-14

Sesame

Hot pressing

150-185

44-47

6.5-7.5

Cotton seeds

Cold pressing

95-105

10-14

5.5-8.5
Structure and Features of YZS-95 Pressing Machinery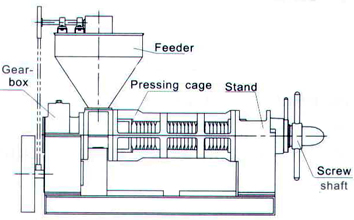 This model of oil pressing machinery is composed of feeder, gearbox, pressing cage, screw shaft and edible oil extraction machine stand etc. It has better results to press olive,soybean and cotton seeds. This kind of vegetable oil screw press utilizes the screw shaft that is set-up with different styles of screws and rotates when machine is running to push the material into chamber. Then the oil is separated out through the extrusion of pressing worm and pressing ring.
Oil Pressing Machinery With Electric Heater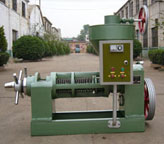 The series screw type vegetable oil press heated by electricity have function of heating and pressing. Before pressing, some parts of the presses such as the press container, press screw and press ring will be heated.
* Capacity: 3-4T/24hrs
* Power of motor: 7.5 kw-1440rpm
* Power of heater: 1.5kw
* Control Cabinet: 380V, 50HZ, 3Phase